Lucky Carrot builds a culture of peer recognition and gratitude, gives voice to employees and provides full analytics to discover the best talents, finds out the causes of disengagement and provides recommendations on how to enhance it.
code
Peer to Peer Recognition
Lucky Carrot is the backbone of a healthy recognition culture providing a new way of rewarding significant achievements and hard work. We bring visibility to employee relationships and teamwork by enhancing the feeling of appreciation and gratitude.
format_paint
Employee Voice
Get anonymous feedback from your employees, understand their real problems and discover all the factors which may prevent them from giving out their best performance. Making your employees' voices heard through pulse surveys fosters a Sense of Belonging & gives you an opportunity to meet your business goals.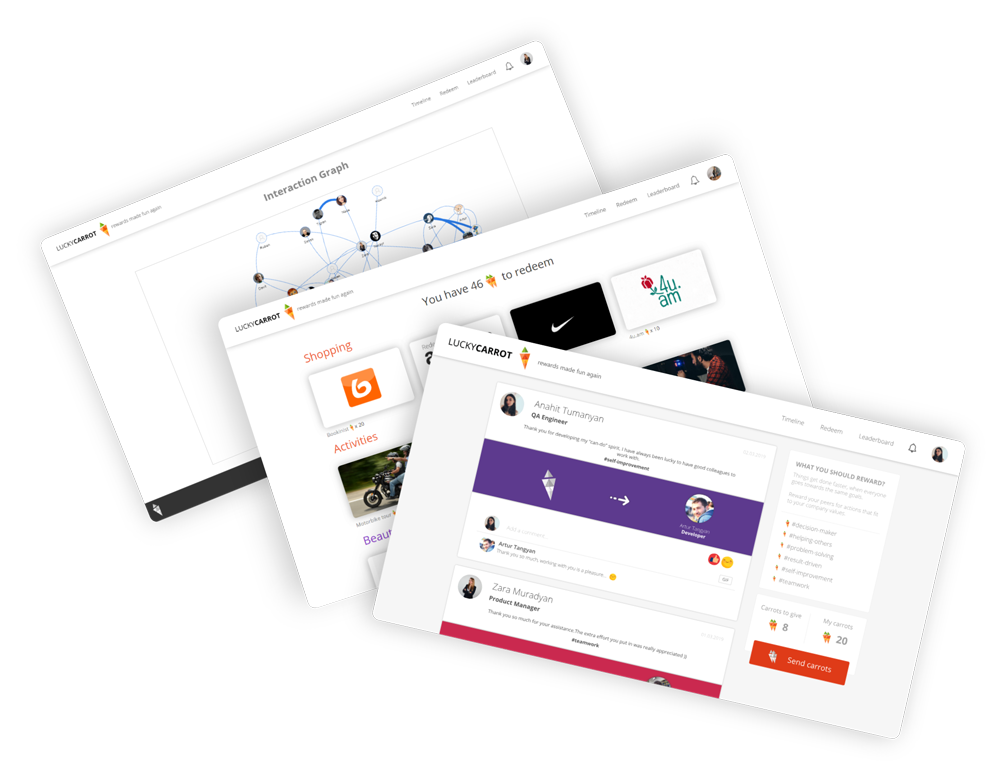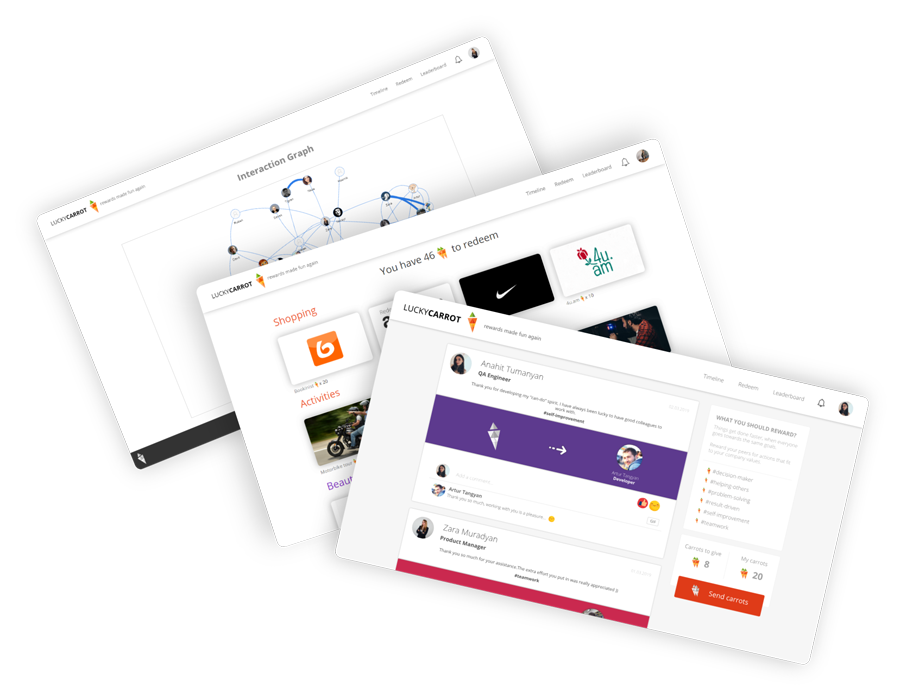 dashboard
Employee Rewards
What your employees want more than anything else is On The Spot Recognition. Lucky Carrot's Personalized, Desirable & Flexible Gift Cards make the rewarding process engaging & remarkable on a regular basis in a way that aligns with company values.
view_carousel
Powerful Analytics
Get powerful insights on employee interactions and relationships predicting possible turnovers․ Find out informal leaders of your company, see the complete analytics of the employee engagement score, discover disengagement causes and get recommendations on how to boost them.
Interested?
Request a demo and let us help you to build a great employee recognition strategy.
Customers
Our Clients Love Us
You need more information? Check what our customers are saying about us.
format_quote
"Lucky Carrot has a number of interesting features, including useful metrics and data analysis. My favorite is the appreciation people express towards each other. It creates a nice culture, helps to engage and gives an overview of the processes happening in the company in real time."
format_quote
"We've been using Lucky Carrot for over 2 years. Our team members take every possible chance to show their appreciation and reward their fellow TCF members. Thank you, Lucky Carrot, for turning a simple "Thank you" into a trackable, actionable, productive, and useful experience."
format_quote
"Lucky Carrot is a space for our employees to have a voice which helps us gather feedback about various processes. It helps me a lot to track the well-being of teams via analytics which provides me with valuable and trustful picture about further transformations of processes."
format_quote
"With Lucky Carrot, we can reflect on our values every day. It also helps new team members get acquainted with our culture, even if they're working remotely."
format_quote
"Sometimes we are too busy to say simple thanks for the support and job our colleagues are doing. With Lucky Carrot it's so easy and fun to do. Let's agree that sometimes only one THANK YOU is missing to do even greater things."
format_quote
"Lucky Carrot is a great way to say "Thank You" and have fun during the job. Moreover, it provides analyzed data for staff management. Our team really enjoys the app."