We help teams to stay connected and engaged especially in this remote reality. We build a culture of peer recognition, bring visibility to employee concerns, achievements and interactions, and provide insights to detect disengagement.
code
Peer to Peer Recognition
Empower employees to recognize each other and build strong connections, and relationships among them. Bring visibility to their hard work, achievements, and every-day positive interaction experiences which may go unnoticed. Foster collaboration, instill sense of belonging and create a connected culture with an opportunity to redeem recognitions into rewards.
dashboard
Goal Management
Set clear goals and make company's important objectives visible to employees. Bring transparency and let your employees know how their daily tasks contribute to achieving the company goals and vision. Create aligned, motivated and result-oriented teams.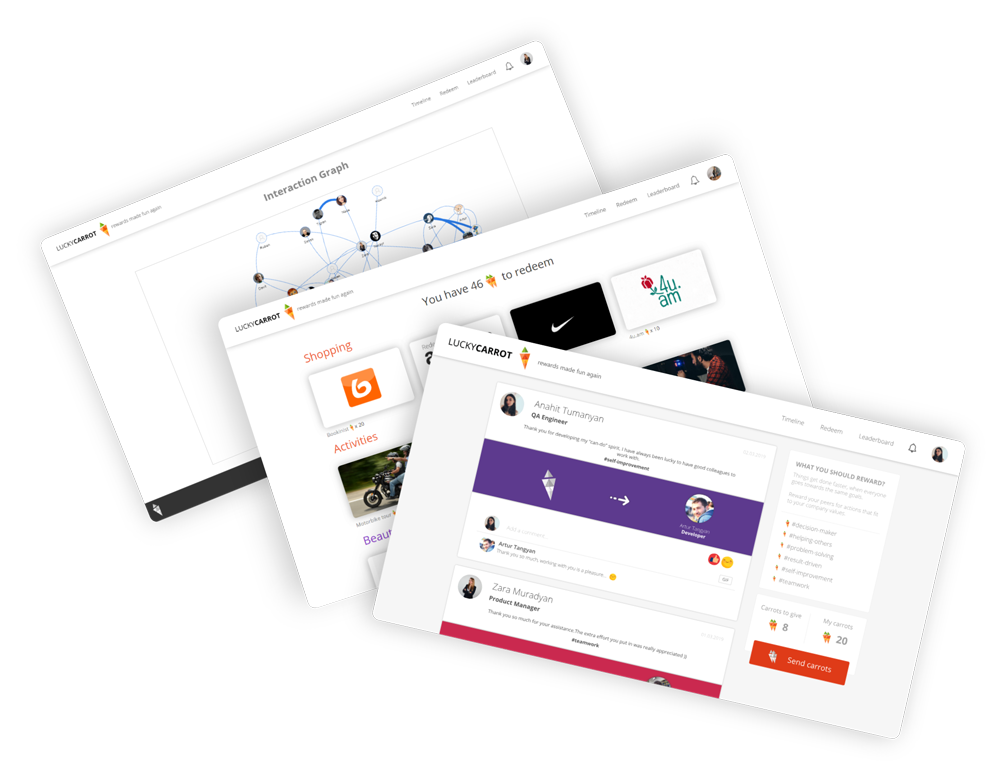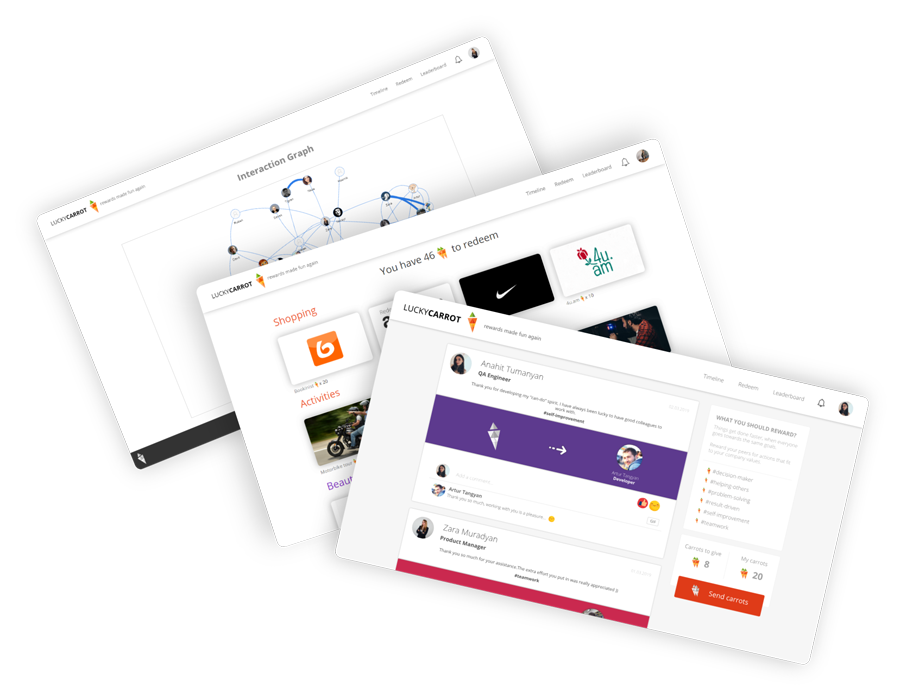 format_paint
Employee feedback
Give voice to your employees with an engagement survey and reveal their real concerns that may stay invisible especially when they work remotely. Discover the causes of disengagement, get actionable insights and make necessary improvements to create an engaged workforce.
view_carousel
People Analytics
Get insights into employee interactions and relationships, find disengaged employees, informal leaders of your company, or make predictions to detect turnover. Use data to make decisions, apply the right interventions and optimize employee experience.
Interested?
Request a demo and let us help you to build a great employee recognition strategy.
Customers
Our Clients Love Us
You need more information? Check what our customers are saying about us.
format_quote
"With remote working, it has always been challenging to strengthen the bond between the members and increase the engagement rate between each other. Luckily with Lucky Carrot, we have been able to incentive each other and that has automatically started improving the relationship between the remote members."
format_quote
"We've been using Lucky Carrot for over 2 years. Our team members take every possible chance to show their appreciation and reward their fellow TCF members. Thank you, Lucky Carrot, for turning a simple "Thank you" into a trackable, actionable, productive, and useful experience."
format_quote
"Lucky Carrot is a space for our employees to have a voice which helps us gather feedback about various processes. It helps me a lot to track the well-being of teams via analytics which provides me with valuable and trustful picture about further transformations of processes."
format_quote
"With Lucky Carrot, we can reflect on our values every day. It also helps new team members get acquainted with our culture, even if they're working remotely."
format_quote
"Sometimes we are too busy to say simple thanks for the support and job our colleagues are doing. With Lucky Carrot it's so easy and fun to do. Let's agree that sometimes only one THANK YOU is missing to do even greater things."
format_quote
"Lucky Carrot is a great way to say "Thank You" and have fun during the job. Moreover, it provides analyzed data for staff management. Our team really enjoys the app."